RIVAL 3 WIRELESS
Year-long Battery Life
The Rival 3 Wireless utilizes brand new Quantum 2.0 Dual Wireless technology to provide ultra-low latency wireless with up to 400+ hours, plus two types of wireless connectivity for precision performance and versatility year-round.
 Quantum 2.0 Wireless
All-new Quantum 2.0 Wireless technology transmits wireless data at unreal speeds in a more stable, reliable, and power efficient way than ever before.
 2.4GHz Wireless
Cut the cord with zero compromises using ultra-low latency gaming-grade 2.4 GHz wireless, so your flick shots are flawless and you won't believe you're free of wires.
 Bluetooth
Taking your mouse on the go is as easy as putting it in your pocket, no dongle required. Simply connect to laptops and other devices via Bluetooth.
 TrueMove Air Sensor
Developed exclusively with the world's leading sensor manufacturer, the new TrueMove sensor was developed specifically for precision wireless tracking, so you can aim with previously impossible levels of accuracy.
Durable Smart Construction
Perfect for on-the-go, you can conveniently carry the dongle inside the mouse, and optionally decrease the weight by utilizing only 1 battery.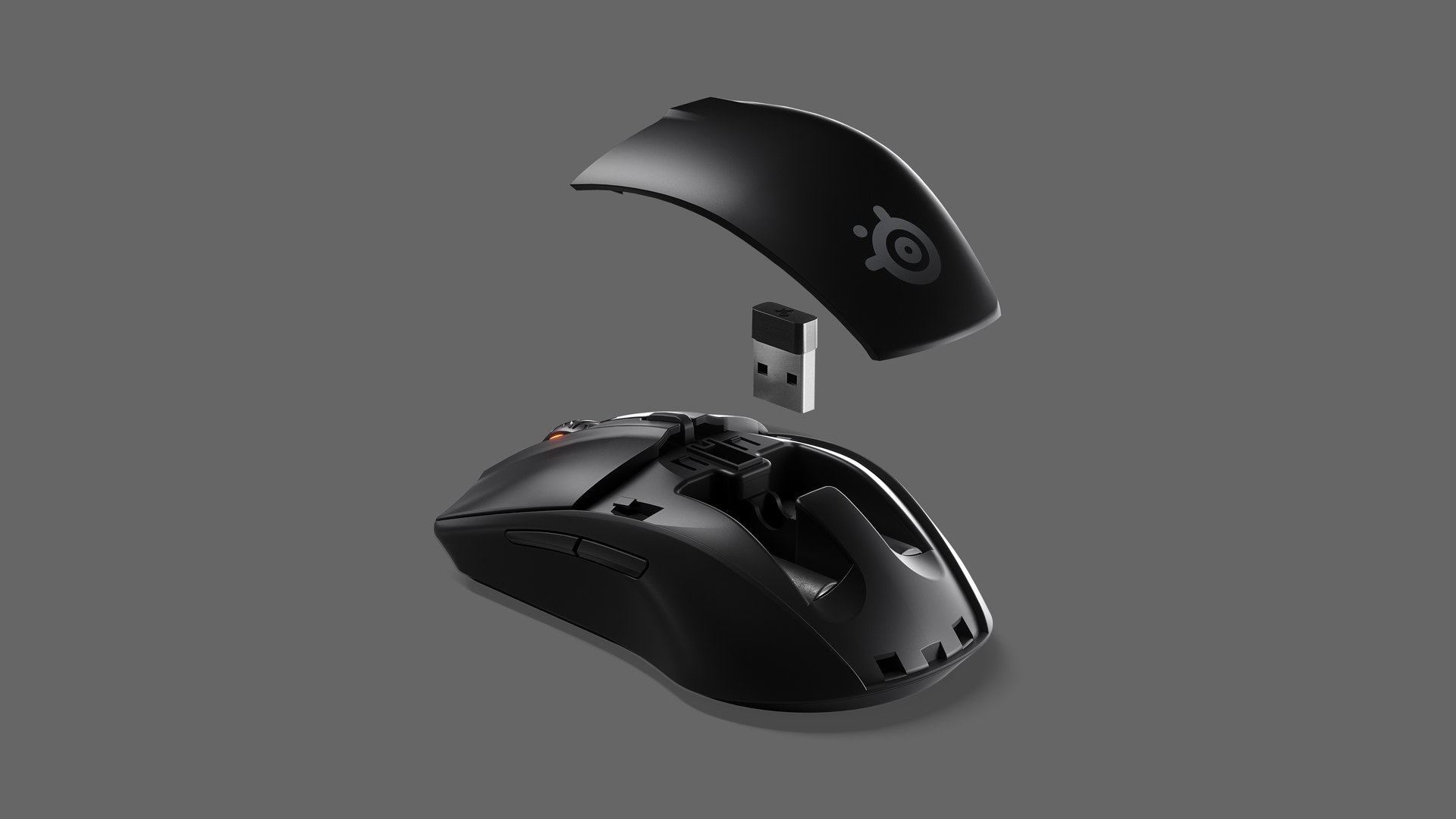 Sensor SteelSeries TrueMove Air
Sensor Type Optical
CPI 100–18,000 in 100 CPI Increments
IPS400, on SteelSeries QcK surfaces
Acceleration 40G
Polling Rate 1000Hz / 1 ms
Hardware Acceleration None (Zero Hardware Acceleration)
Back Cover Material Black Matte Finish
Core Construction ABS Plastic
Shape Ergonomic, Right-Handed
Grip Style Claw or Fingertip
Number of Buttons 6
Switch Type SteelSeries mechanical switches, rated for 60 million clicks
Illumination 1 RGB Zones
Weight 106g (two batteries), 96g (one battery)
Length 120.60mm / 4.74 inches
Width 58.30mm / 2.30 inches (front), 67.00mm / 2.64 inches (back)
Height 21.50mm / 0.85 inches (front), 37.90mm / 1.49 inches (back)
Connection 2.4GHz / Bluetooth 5.0
OS
Windows, Mac, Xbox, PlayStation 4, PlayStation 5 and Linux. USB port required.
Software
SteelSeries Engine 3.18.4+, for Windows (7 or newer) and Mac OSX (10.12 or newer)
Rival 3 Wireless Gaming Mouse

Rival 3 Wireless Dongle

2x AAA Batteries