ERGONOMICS MEETS PERFORMANCE
MX Vertical is an advanced ergonomic mouse that combines science-driven design with the elevated performance of Logitech's MX series.
Rise above discomfort with a mouse designed to reduce muscle strain, decrease wrist pressure, and improve posture.
57° VERTICAL ANGLE FOR IMPROVED WRIST POSTURE
MX Vertical's unique 57° vertical angle reduces the pressure on your wrist, while your thumb is positioned comfortably on the thumb rest.
USER TESTED. ERGONOMIST-APPROVED.
MX Vertical has been designed and tested with criteria set out by leading ergonomists – improving posture, lowering muscle strain, and reducing wrist pressure.
COMFORT FORM WITH TEXTURED SURFACE
MX Vertical is shaped for the human hand and smooth to the touch.
Its unique form is designed to fit a variety of hand shapes and sizes, while the textured rubber surface assures a solid and natural grip.
ELEVATED PERFORMANCE
Logitech's MX mice are engineered for masters of their craft who want to get more done, more efficiently.
Logitech Flow allows you to seamlessly control multiple computers – and you can customize buttons, set application-specific functions, and adjust cursor speed via Logitech Options software.
PREMIUM SCROLL WHEEL
Get things done quicker with a precision scroll wheel featuring a convenient middle click.
EASY-SWITCH™ AND FLOW-ENABLED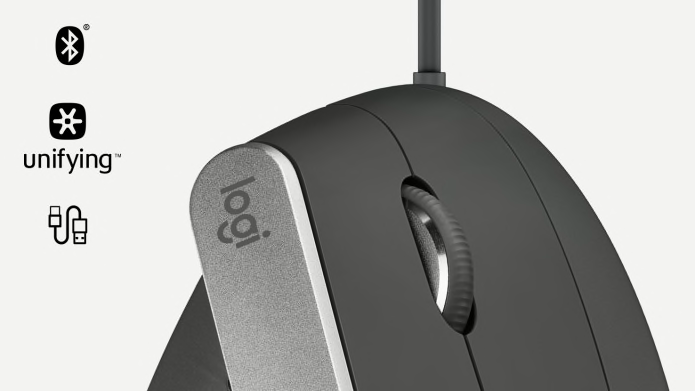 THREE WAYS TO CONNECT
Connect MX Vertical via the included USB-C charging cable, Logitech Unifying Receiver, or Bluetooth®.
For the best product experience with Bluetooth, please upgrade your computer's operating system to the latest version.