K580 SLIM MULTI-DEVICE WIRELESS KEYBOARD CHROMEOS EDITION
Ultra-slim, compact, and quiet keyboard for computers, phones or tablets with a special ChromeOS layout
Meet the K580 Multi-Device Keyboard ChromeOS Edition. It's the ultra-slim, compact, quiet keyboard for computers, phones or tablets with a special ChromeOS layout
MODERN. MINIMALIST. BUILT FOR CHROME OS.
Chromebook users can streamline their setup with the K580 Multi-Device Keyboard Chrome OS Edition. Type on your computer, switch, and type on your phone—with a layout specially designed for Chrome OS devices. It's your everyday multi-tasking companion.
MODERN, SLIM DESIGN
Get a clean, modern desk setup and make a visual statement thanks to the ultra-slim profile and minimalist design of the K580 Slim Multi-Device.
WORK SEAMLESSLY WITH EASY-SWITCH™
A computer keyboard that also works with your smartphone and your tablet. The Easy-Switch buttons let you switch typing between two devices with the same keyboard.
Start typing a report on your computer, then switch to type a message on your phone — which can be placed in the built-in phone cradle for better multitasking.
MAXIMIZE YOUR SPACE
The compact design helps you get the most out of your workspace. With a number pad and all the keys you need for great productivity right at hand, there's less arm extension, so you can work comfortably for longer.
WHISPER-QUIET, COMFORTABLE TYPING
Low-profile key switches provide fluid laptop-style typing and ultra-quiet work experience for you and those around you.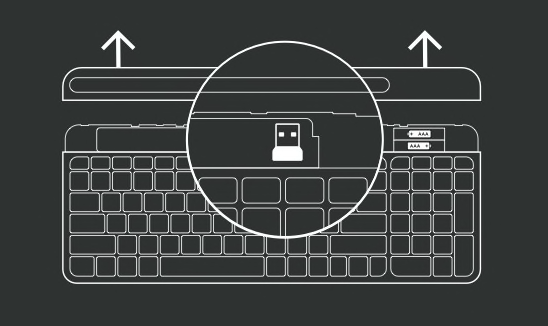 REMOVE KEYBOARD BATTERY DOOR
Slide the upper part of the keyboard up to find the batteries and receiver storage inside.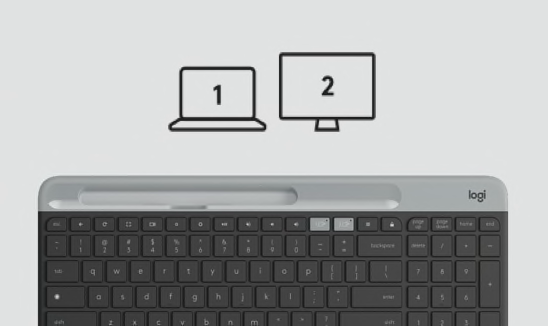 PAIR THE KEYBOARD WITH A SECOND DEVICE
Long press for 3 seconds the Easy-Switch key – Channel 2. When the LED starts blinking the second channel will be ready to pair through a Bluetooth connection.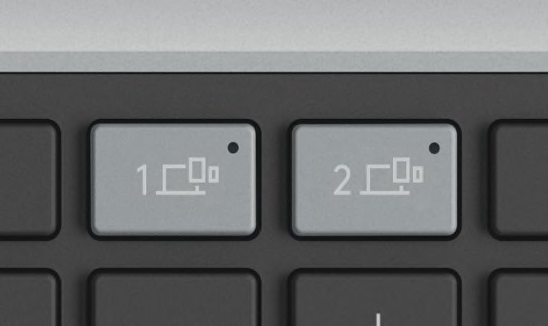 TOGGLE BETWEEN DEVICES
Simply short press either channel 1 or 2 to switch typing on your devices.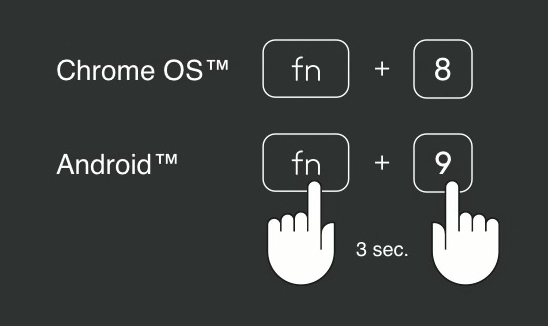 QUICKLY SWITCH BETWEEN KEYBOARD OS LAYOUTS
Hold the following keys for 3 seconds.
For Chrome OS: fn + 8
For Android™ fn + 9
The LED on selected channel key will light up to show that the OS has successfully changed.
Dimensions
USB Receiver
Height: 23.1 mm
Width: 18.7 mm
Depth: 6.1 mm
Weight: 2 g
Keyboard Dimensions
Height: 143.9 mm
Width: 373.5 mm
Depth: 21.3 mm
Weight (including batteries): 558 g
Technical Specifications
Battery life Keyboard: 18 months
Battery type: 2AAA (included)
Wireless technology: Logitech Unifying Receiver or Bluetooth low energy technology
Unifying ready receiver: Yes