Radial Controller Protocol is supported with or without the Driver installed.
How to customize the functions of Dial Controller in the Redial mode(Windows 10 or later)?
Select the Start button, then select Settings > Devices > Wheel.
Choose your default tools:
Select the Add button "+" to add a new tool. There's lots of options, from increasing and lowering volume and brightness to zooming and scrolling to switching apps. But you are allowed to add 5 functions at most.
Choose which keyboard shortcut you want to use when you rotate left, right, or click dial controller.
Set different functions for different programs or add multiple new tools to the dial controller.
Dial Your Imagination Number

Radial Controller Protocol is supported with or without the Driver installed in Q620M graphics drawing tablet. Page Scrolling,Zoom in/out,change the brush. You can also customize it to your preference.

8 Programmable Press Keys

8 programmable press keys are all customizable, which provides you a plethora of ways to tailor your software experience and raise your work efficiency.

The frosted finishing is fingerprint-resistant and at the same time mimics the friction between pen and paper, which will bring you more lifelike drawing experience.

Q620M Graphics Drawing tablet comes with 10.5 x 6.5 inches large working area. Anti-Slip Design on the back can prevent the tablet from dropping easily down when you focus on drawing.

±60°Tilt Range 8192 Pen Pressure

Report Rate:5080LPI, Report Rate:266PPS ,Tilt Range:±60, Pen Pressure: 8192 level. It ensures more accurate and detailed presentation. Make your drawing alive. Provide your with pen-on-paper drawing experience.

Get rid of the charging cable. 10mm Sendsing Height- the pen and tablet can respond to each other within 10mm of sensing distance. Dual Programmable Buttons- convenient and easy to use.
Package Contents
Huion Q620M Tablet (2.4G USB Receiver Inside)

Micro USB Cable

Quick Start Guide

OTG Adapter

Battery-free Pen PW500 (Pen Nibs x 10, Clip x 1 inside the pen stand)
8 LED Light on the Shotcuts
Eight press keys on Q620m are embedded with a LED light in the center respectively, which will serve as indicators of real time battery consumption,low battery and status of the tablet.
Both Left and Right Hand Supported
For Windows:

 Click Huion driver Panel > Work Area > 180°> Apply.

For Mac OS:

 Follow the steps above and click the Apple icon > Select "System Preferences" > Click "Display" to enter the "Display Setting" > Set the rotation to 180 °.
Compatibility
Compatible with Windows 7 or above /Mac OS 10.12 or above

Q630M drawing tablet supports various mainstream design and drawing software, including PS, SAI, AI, CDR, etc.
Specifications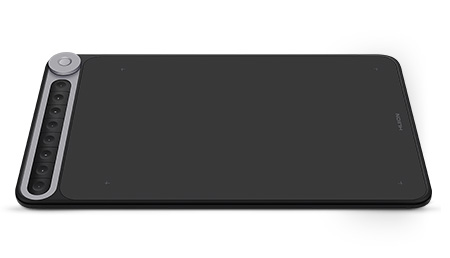 Multifunctional dial controller.
Slim and easy to carry with 8mm of thickness.
>233PPS report rate.
8192 pressure sensitivity levels.
2.4G wireless connectivity help to unleash your creativity.
1.2 hours charge, 20 hours work.
8 programmable press keys.
OS support: Windows/macOS.
Appearance

Color:Black

Dimension:375.5 × 220.4 × 8mm

Working Area:266.7 x 166.7mm

Net Weight:666g

Touch:-

Interface:USB-C

Technical Specifications

Digital Pen:PW500

Pen Technology:Battery-Free Electromagnetic Resonance

Pen Resolution:5080 LPI

Pressure Sensitivity:8192Levels

Tilt Support:±60°

Sensing Height:10mm

Report Rate:>233PPS

Accuracy:±0.3mm

Press Keys:8 Programmable Press Keys+Dial

Connection

Automatic Sleep:15mins

Wireless Connectivity:USB 2.4 G

Communication Distance:5-10m(as per surroundings)

Charge Time:about 1.2 hours

Battery Life:about 20 hours

Battery Capacity:1100mAh

OS Compatibility

Windows 7 or later
macOS 10.12 or later
Linux